4 Ways to Cope With Last-Minute Travel Problems
<![CDATA[Here are four tactics that road warriors can use to cope with their last-minute travel problems.]]>
When traveling is part of your job, there are bound to be times when unpredictable events throw a wrench into your plans. Delayed flights, overbooked hotels and traffic jams can all be sources of stress and lead to lost productivity on business trips.
Here are four tactics that road warriors can use to cope with their last-minute travel problems.
1. Expect the Worst
The best way to proactively manage travel issues is to always prepare for the worst-case scenario. Give yourself extra time when heading to the airport or to a business meeting. Just because there are blue skies, doesn't mean your flight will be on time. Similarly, construction or car accidents can cause unavoidable gridlock. Many times an extra 15 minutes can make the difference between catching your flight and being stranded overnight.
If possible, especially if you know you're facing a short layover or need to get moving quickly after landing, avoid checking baggage and carry all valuable and essential items on your person. There's nothing worse than being unprepared for an important business meeting because your laptop was in your suitcase and was sent to the wrong city.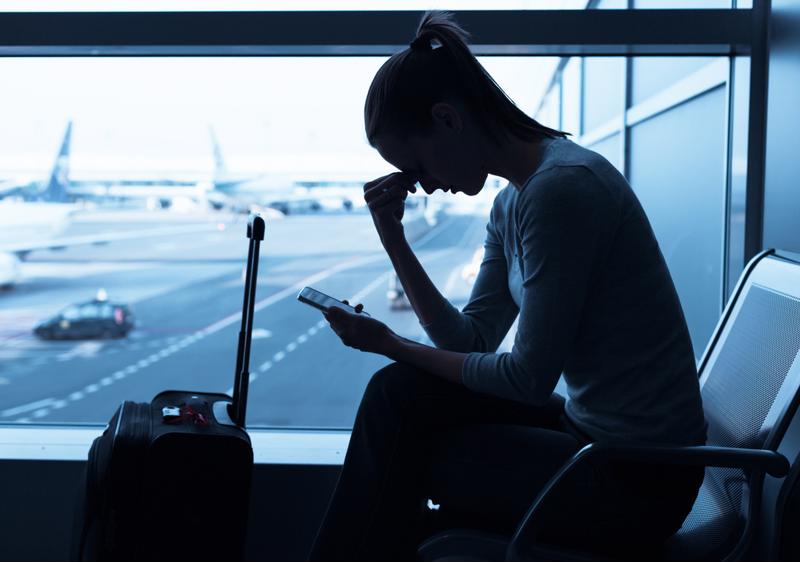 2. Double-Check Expense Policies
Your company likely has travel policies that dictate what to do when you're stuck on the road. If your flight gets canceled or your hotel is overbooked, get on the phone with your travel manager or your company's travel agency and plan your next step. It's always best to double-check that unexpected expenses will be covered before spending your own dollar for a pricey plane ticket or hotel room.
"Find solutions to transportation problems by thinking outside the box."
3. Get Creative About Transportation 
Say your flight to JFK gets canceled and there's not another plane until the morning. Your first instinct might be to simply book a hotel room and wait it out. But what if that morning flight will cause you to miss a meeting? You can often find solutions to transportation problems if you think outside the box. One option might be to fly into a nearby airport, such as Newark, then book a car service ride using the GroundLink mobile app.
"When you're flexible with your travel plans, you can often find alternative ways to reach your destination without going over your company's budget or losing valuable work time," explained Dean Sivley, CEO of GroundLink.
4. Know Who to Call
Most people instinctively head to customer service when they're stuck at the airport or in a train station. However, these lines will likely be packed with argumentative customers who are upset by the delays. Experienced travelers will tell you that there are often better people to speak with or call that can get you on the next flight without the wait. Try heading to an airport lounge, where there are usually shorter lines and friendlier agents. If you don't have access to a lounge, you may have some luck if you call an airline's customer service number. Don't forget that honey will get you further than vinegar – be polite and understanding and you may just be rewarded!