A Business Traveler's Guide to Chicago
<![CDATA[Whether you're new to the corporate travel scene or an experienced road warrior, use this guide to make the most of your time in Chicago.]]>
Some call it the Windy City, while others refer to it affectionately as Chi-Town. Whichever nickname you prefer for the Midwestern city, chances are that if you travel for work, you'll end up in Chicago at some point.
Whether you're new to the corporate travel scene or an experienced road warrior, use this guide to make the most of your time in Chicago.
"Make the most of your time in Chicago."
Where to Stay
Depending on how long you're visiting, you may have different needs when it comes to accommodations, but those looking for a quality room at an inexpensive price should look no further than the Millennium Knickerbocker Hotel. It's just a block away from the famed Magnificent Mile and boasts all the amenities you'll need to stay productive and regenerated throughout your trip, such as 24-hour business and fitness centers.
If you have a higher budget and an array of technological needs, you may want to see if your company's travel policy will cover a room at The Peninsula Chicago. Not only is there free WiFi, exceptional cellphone service and an impossibly long list of TV channels, but rooms are also equipped with laptop docking stations so you can project your important presentations onto the in-room television.
For travelers who prefer hotel chains, you can't go wrong with the local Hilton, Hyatt Regency, Marriott or IHG hotel options.
What to Eat
On your first visit to Chicago, there are a few quintessential cuisines that you've simply got to try. On top of the list is Chicago-style deep-dish pizza, and Chicago magazine recommended that you indulge in this dish at Lou Malnati's. The chain has locations all over the city, so regardless of where you're staying, you'll be able to get your hands on a slice of deep-dish deliciousness.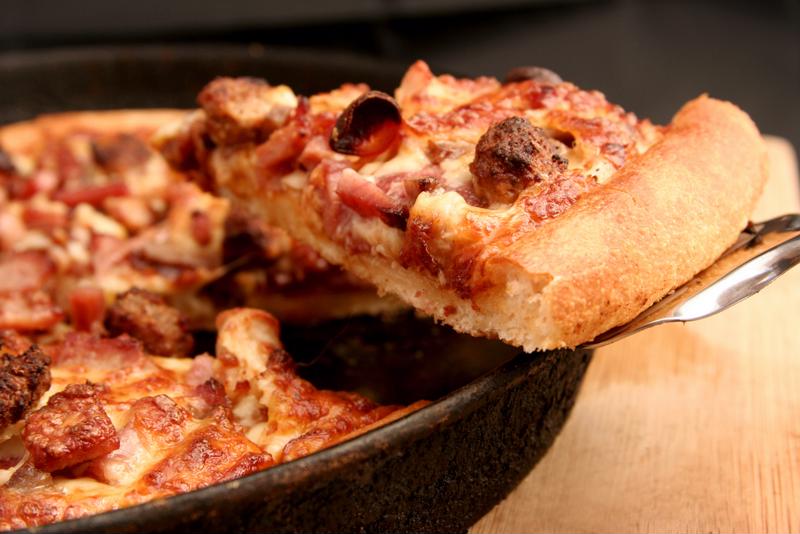 Another regional indulgence that you should try at least once is the Chicago-style hot dog. If you're in Bridgeport, stop into Fabulous Freddies Italian Eatery for a wiener loaded with relish, pickles, tomatoes, celery salt and sausage.
For your important business dinners, consider bringing clients to Everest in the Central Loop. The fine French restaurant is located on the 40th floor of the Chicago Stock Exchange building, so you'll be treated to spectacular views of the city while you dine.
How to Get Around
If you're coming in from out of state, you'll likely arrive in the Windy City at either O'Hare International Airport or Midway Airport. From O'Hare, the bigger of the two airports, you can connect to the Chicago Transit Association's Blue Line to get downtown. However, the airport warns that during peak hours the "L" trains may be crowded. Another good option, especially if you're pinched for time, is to schedule an airport pickup service with GroundLink or use GroundLink's Ride Now® service.
"GroundLink frequently serves travelers arriving at O'Hare Airport and Midway Airport," explained GroundLink CEO Liz Carisone. "When you schedule your car service ride to pick you up at either of Chicago's airports, we'll take your flight number during the booking process so we can monitor the status of your flight and adjust your pickup time accordingly. This way, you won't be charged unnecessary wait time fees if your plane is delayed, and if your plane is early, we'll be there to pick you up."
GroundLink, your ON TIME EVERY TIME® car service, can also help you get to your meetings, dinners and other locations throughout Chicago. Either book your ride in advance or use GroundLink's Ride Now service. With GroundLink's Ride Now service, your private driver will be there to pick you up in 20 minutes or less. Just select your pickup and drop off location and then Ride Now in the GroundLink Car Service mobile app and then watch as your driver comes to pick you up!